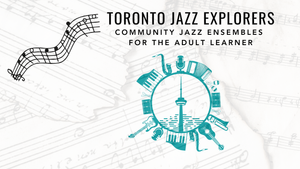 Founded in 2021, Toronto Jazz Explorers is a community-learning program that provides adult Jazz enthusiasts a place to hone their playing skills, learn the fundamentals of Jazz, and have fun making music in a collaborative ensemble each week.  Directed by Toronto-based saxophonist and music educator, Mike Wark, the Toronto Jazz Explorers program keeps it's focus on small ensembles in order to facilitate an intimate workshop-style learning environment. We are excited to offer a unique program of this kind and foster a community around Jazz education that mentors the "mature student of Jazz."  Our ensembles are held in-person, once a week, and run from September to June. We welcome all levels of players and experience - check our ensembles page to find out which ensemble might be a good fit for you, and get in touch HERE to tell us a bit about yourself and your playing experience! 
 www.torontojazzexplorers.com
"I find that the jazz ensembles are great for working on my ensemble playing and improv skills with very supportive people.  It's a chance to get tips, techniques and experience playing for soloing with live musicians.  And the small ensembles gives everyone a chance to do a lot more improvising than you normally would with bigger bands."   -  Mitch V.  
"The jazz ensemble experience has been a real confidence-builder, providing me with a foundation of basic jazz theory that is challenging but not paralysing. The focus is on developing one's ability to improvise, and in that, Mike is very empathetic and encouraging. An incredible listener, he points out both specific strengths and areas for future steps in remarkable detail for each musician. I've seen my playing improve in other band contexts as well."          -   Susan S.